Acorn & Stannah Stairlifts, Chairlifts for Stairs, Used Stair lifts, Chairlift & Stairlift Rental and Repair in King of Prussia, PA from Interstate Lift.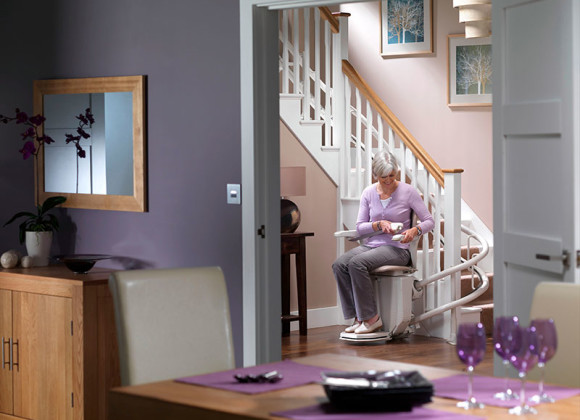 Interstate Lift is a family company that has been meeting the stairlift needs of King of Prussia, PA residents for a very long time. Our company has been in business forover four decades, and we are still going strong. The people in our area need mobility solutions that can accommodate the architecture here, and since we have so much experience in this particular area, we are the ideal chairlift resource.  Twists and turns, narrow staircases, and oddly configured landings are not a problem. When you work with Interstate Lift, you can be certain that your stair chair will be perfectly installed, and there is no stairway configuration that our experts cannot accommodate.
Used Stairlifts and Stairlift Rentals
Here at Interstate Lift, we recognize the fact that King of Prussia residents have different needs when it comes to mobility solutions. If you are looking for value, we carry high quality, lightly used stairlifts that can provide the ideal solution in some cases. We also offer stairlift rentals for those who are looking for a shorter term mobility solution. You have freedom of choice when you work with Interstate Lift.
Industry Leading Manufacturers
We can apply our many years of experience to expertly install the ideal stair chair into your King of Prussia home, but the quality of the product that we install is certainly going to be a huge part of the equation. Over the years, we have identified the best possible resources, so we offer our customers Acorn stairlifts and Stannah stairlifts. These are the leading names in the stair chair industry, and they stand behind their products with solid warranties, so you can proceed with total confidence.
King of Prussia, PA Stair Lift Repair Services
If you have an existing stair lift that is in need of some repair work, our technicians are always standing by to provide the assistance that you need. Since we carry Stannah, and Acorn stair lifts, we have a wealth of experience with various different industry-standard products. Our stair lift repair professionals are knowledgeable, communicative, and efficient. We can repair your chairlift in an efficient and effective manner and restore your in-home mobility.
Give Us a Call!
Quality customer service is important to us, and our polite, knowledgeable professionals are standing by to take your call. King of Prussia, PA locals can call us at 215-335-7940, and our toll-free number is 800-248-8800.