Stannah Stairlifts, Chairlifts for Stairs, Used Stair lifts, Chairlift & Stairlift Rental and Repair in Moorestown, NJ from Interstate Lift.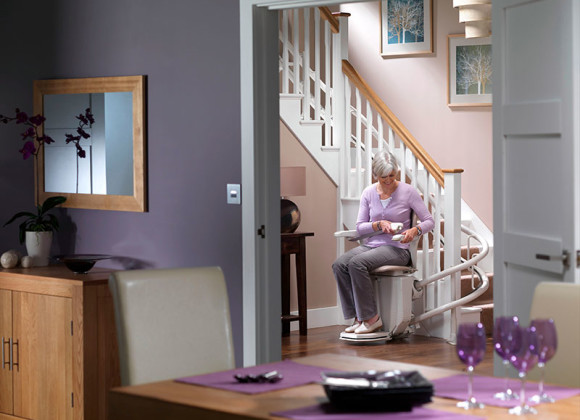 We welcome you to the portion of our website that we have dedicated to our Moorestown, NJ stair lift customers. Each area of the country has its own unique architectural flavor, and the configuration of a home has everything to do with stair chair installation. Interstate Lift has been serving the greater Moorestown area for more than 40 years. Over that time, we have installed thousands of chairlifts, and we know what to expect when we enter your home. Narrow staircases, angles, twists and turns, and tricky landings are not an obstacle. If you need a chair lift for stairs, Interstate Lift can accommodate your needs. Ultimately, you can enjoy your home once again with easy access and full mobility.
Stannah Compared to Acorn Stair Lifts
When you are  having a chairlift installed into your home, you are taking a very big step. Your property is probably your most valuble possession, so any changes that you make are significant on that level. Plus, the stair lift is going to be your mobility lifeline, so quality is of the utmost importance. We recognize the fact that the stakes are high, and we have done a lot of research over the years. Interstate Lift has identified the highest quality stair lifts that money can buy. Are you consider an Acorn stair lift or Stannah stair lift? We provide our Moorestown, NJ stair chair customers with a wide number choices from the top industry leader. Stannah stair lifts and stair chairs are industry standards, and they all stand behind their products with solid warranties. When you get a stair chair from Interstate Lift, you can be certain that the quality is going to be impeccable.
Moorestown, NJ Chair Lift Rentals
In some cases, a person will need a chair lift for a limited period of time, and we understand this dynamic thoroughly. We are a full-service mobility solution company, so we provide options for people who are interested in a chair lift rental. Our rental customers are just as important to us as the people who buy new and used chairlifts from us, and we would be more than glad to accommodate your stair lift rental needs.
Stair Lift Repairs
As highly experienced stair chair installers, we have a thorough understanding of the intricacies of the Acorn and Stannah stair lifts that we sell to our customers.  We can transfer that knowledge and use it to provide chairlift repairs in the Moorestown, NJ area. You can count on us for reliable stair chair repair work, and we will never try to sell you a new stair lift if your existing unit can be effectively repaired.
Give Us a Call!
If you would like to discuss a stair lift solution with one of our knowledgeable experts, call us in Moorestown, NJ at 215-335-7940 or 800-248-8800.