Stannah Stairlifts, Chairlifts for Stairs, Used Stair lifts, Chairlift & Stairlift Rental and Repair in Ardmore, PA from Interstate Lift.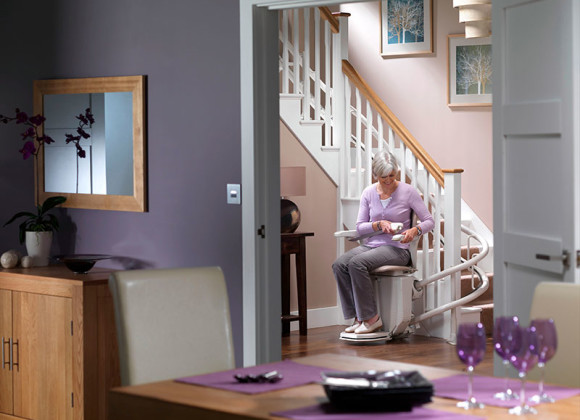 The people at Interstate Lift have been selling and servicing stair lifts in Ardmore, PA for a very long time, so we understand the needs of people in this area. There our certain architectural characteristics that the homes in the greater Ardmore area generally have, and staircase configurations are going to factor into stair chair installations. When say that we have been providing assistance in the community for a long time, we are not exaggerating. Our company was founded over 40 years ago, and we put that experience to work for you when we install a stair chair into your Ardmore home.
Clear, Concise Communication
You are making a big investment on a number of different levels when you work with a company to install a chair lift for stairs. We recognize the fact that people are going to have questions, and we want our customers to make fully informed decisions. When you contact Interstate Lift to discuss your chair lift installation project, we will answer all of your questions in a clear, concise manner. We have been successful for so long because we endeavor to satisfy our Ardmore stairlift customers every step of the way, and we are there for you after we install your stair chair.
Over time, your stairlift may require maintenance, and sometimes repairs are necessary. Our technicians also provide stair lift repairs, so we can get your existing stair chair running smoothly if a repair is possible. We should also point out the fact that we offer stair chair rentals. Sometimes a temporary solution is called for, and a stair chair rental can be the right choice. 
Acorn VS Stannah Stair Lifts
The human element is very important when you have a stair lift installed in your Ardmore, PA home. You want to work with expert installers, but the chairlift itself is going to be a very significant part of the equation. We source nothing but the best stair chairs the business, so we offer Stannah chairlifts and stair lifts. Our vast experience in this industry has lead us to work with many of the largest stair lift providers, Acorn and Bruno to name a few, and we've found that Stannah stair lifts provide the best products, services, and warranties.
Speak With an Ardmore, PA Stair Lift Specialist!
We are standing by to help if you would like to speak with a stair chair expert about a new or used stair lift repair, rental, or purchase. You can reach us by phone at 215-335-7940, and our toll-free number is 800-248-8800.