Stannah Stairlifts, Chairlifts for Stairs, Used Stair lifts, Chairlift & Stairlift Rental and Repair in Princeton, NJ from Interstate Lift.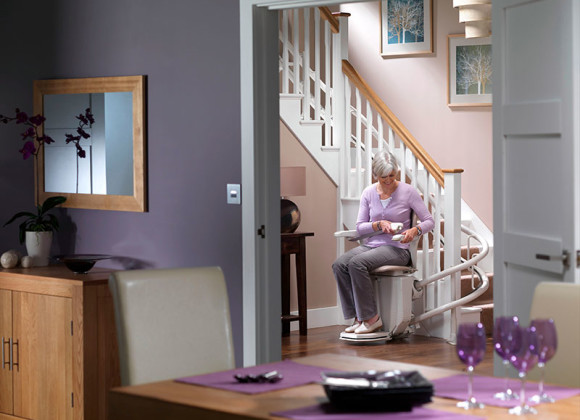 If you are looking for a Princeton, NJ stairlift company that has the experience and expertise to adapt a mobility solution to suit the unique characteristics of your home, you have landed in the right place. Interstate Lift has been installing chairlifts in this area for over four decades, and we recognize the configuration challenges that can be presented. Our expert technicians have seen it all, and the vast product line that is available to us is carefully crafted to provide responses to architectural twists and turns.
The stairlifts that we install for our Princeton customers are manufactured by the most highly regarded companies in the mobility industry. The Stannah company is one of them, and believe it or not, they have been in business since 1867. You must be doing something very right if you are able to sustain that type of longevity. When it comes to modern stairlift technology, over the last 40 years they have satisfied over 600,000 customers worldwide, so you can't go wrong with a Stannah stairlift. You may have also heard of Acorn and Bruno brand stair chairs. These are two more names that resonate very loudly within the mobility industry, but nothing quite compares to the quality of a Stannah chairlift.
Princeton, NJ Stairlift Rentals & Stairlift Repairs
There are instances when someone will need a chair lift for stairs for a limited period of time, and under these circumstances, a purchase is not practical. We fully understand this dynamic, and as a full-service mobility company, we offer stairlift rentals to people in and around Princeton, NJ. If a stairlift rental is the right choice, we have you covered. Plus, we also provide stair chair repairs, so we can get your existing chairlift back in working order if anything is malfunctioning.
Quality Customer Service
We take a great deal of pride in the quality of the new and used stairlifts that we offer to our customers.in Princeton, NJ, and we feel as though our installation technicians are second to none. At the same time, we also endeavor to provide standout customer service at the initial point of contact. When you call us to discuss your chairlift needs, you will speak with a knowledgeable, courteous professional who is eager to assist you. If you are ready to get started, you can call us locally at 215-335-7940, and our toll-free number is 800-248-8800.