Stannah Stairlifts, Chairlifts for Stairs, Used Stair lifts, Chairlift & Stairlift Rental and Repair in Wilmington, DE from Interstate Lift.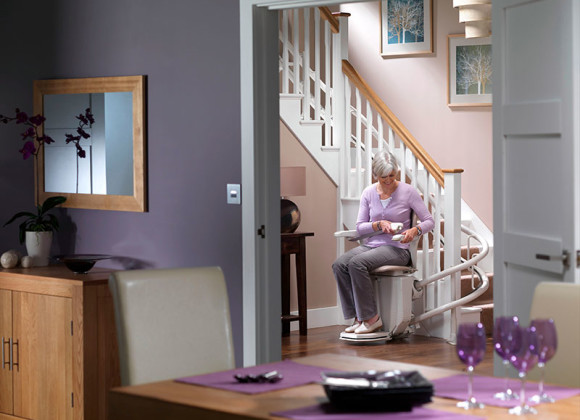 Interstate Lift has been installing premium stairlifts in Wilmington, DE and the surrounding area for over four decades, and we take a lot of pride in the mobility solutions that we offer. During our current era, an unprecedented number of people are attaining senior citizen status, because the baby boomer generation is getting older. In many cases, a stair chair can allow a senior with mobility challenges to remain in his or her home. We take our responsibility to the community to heart, and we provide each and every one of our customers with personalized attention.
Stairlift Rentals and Repairs
We sell chairlifts for stairs that are manufactured by the highest rated companies in the industry. Our offerings include Acorn stairlifts and Stannah stairlifts. At the same time, we are a full-service stairlift company. We also offer chair lift repair services here in Wilmington, DE, and our experience serves us well in this area. Since our technicians install equipment that is manufactured by all the leading companies, we have a thorough understanding of these products, and this enables us to provide quality stair lift repairs.
In some cases, a stairlift rental will be the best choice, and we have you covered in this area as well. We rent stairchairs, so we can provide you with a temporary mobility solution. Our company also sells used stairlifts, so you can explore our inventory if you are interested in a quality chairlift at a discounted price.
Acorn Compared to Stannah: Service, Selection & Customer Satisfaction
Customer service has always been a priority for us, and we take a holistic approach. We want our Wilmington star lift customers to feel comfortable working with us from the outset, so our knowledgeable customer care representatives are always standing by to answer your questions over the phone. Clearly, most people don't know a great deal about stair chairs until they look into the subject, so we are fully prepared to explain your options to you in a clear and concise manner.
Since we carry a wide range of Stannah stair lifts, you have many options, so you will definitely be able to find the chair lift for stairs that is perfect for you. Considering Bruno chairlifts or Acorn stairlifts? We can guide you to the best stair lifts available on the market. We should also point out the fact that our expert installers can design a chairlift solution to respond to any stairway configuration.
If you would like to take the first step toward increased mobility, call us in Wilmington, DE at 215-335-7940 or 800-248-8800.