Retractable Rail Stairlifts in the Lehigh Valley, Delaware Valley, Newark DE, Moorestown, Cherry Hill, and the Surrounding Areas
Stannah Interstate Lift has been the trusted resource for retractable rail stair lifts in the greater Philadelphia area for more than 40 years. We are a family-owned and operated business, and we feel an authentic connection to our neighbors in the Delaware Valley. It is gratifying to be able to provide retractable rail stairlifts that change lives for the better, and we have a great deal of passion for the work that we do.
Sometimes the rail at the lower landing of a flight of stairs will present a tripping hazard, and depending on the configuration, it could prevent a door from opening. Under these circumstances, a retractable rail stair chair will be the ideal solution. We would be more than glad to examine your stairs to guide you toward the stair lift that ideally suits your needs. Since we have been providing retractable rail stair lifts in this area for so long, we have a great deal of knowledge about the architecture that is specific to the Delaware Valley.
Stannah Chairlifts
As we have stated, we have been in this business for decades, so we have had the time to evaluate all the different manufacturers of retractable rail stair lifts. We have come to the conclusion that the Stannah company produces the highest quality stair chairs that are available today.
They have been the leading provider of stair chairs for more than four decades, and the company actually dates back to its founding in 1867. Over 600,000 people are living more comfortable lives because they have purchased Stannah stairlifts. In addition to our inventory of new stair chairs produced by this venerable company, we also carry used stair chairs.
Stairlift Repair and Stair Lift Rental Services
If you want to purchase a retractable rail stairlift, we certainly have you covered, but our offerings do not stop there. We are also a stair chair repair resource, so if your stair lift is on the blink, we can get it working properly once again. Plus, if you are interested in a stair lift rental, we would be more than glad to satisfy your needs.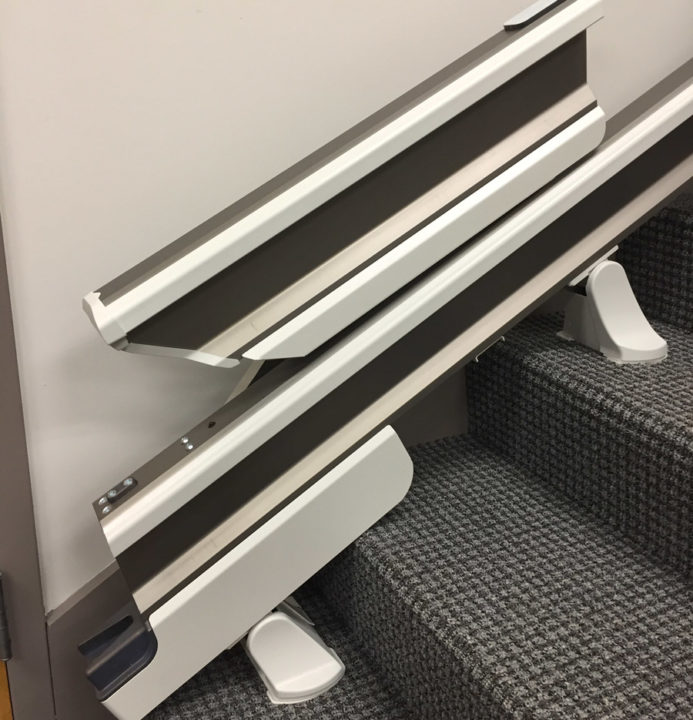 Call or Click Right Now!
You can discuss retractable rail stairlifts, stair lift rentals, or a stairlift repair with a knowledgeable member of our team if you give us a call at 215-335-7940, and our toll-free number is 800-248-8800. There is also a contact page on this website that you can use to send us a message electronically
We provide sales, service and installation for the following Stairlift types:
---
We also install grab bars!