Stannah Stairlifts, Chairlifts for Stairs, Used Stair lifts, Chairlift & Stairlift Rental and Repair in Cherry Hill, NJ from Interstate Lift.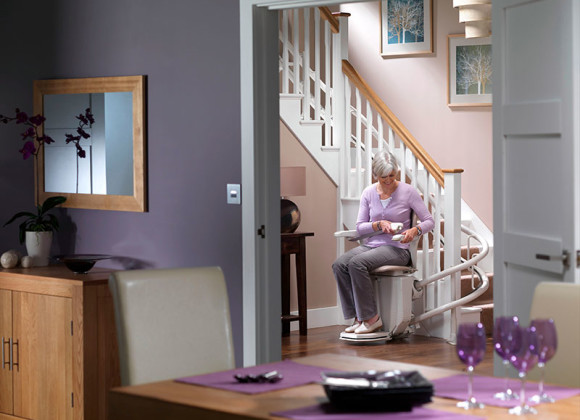 When you look at your staircase and you see a challenge looking back, it may be time to think about installing a stair lift.  As a Cherry Hill, NJ resident, you have a very viable stair chair resource at your fingertips. We founded Interstate Lift more than four decades ago, and over the years we have provided mobility solutions for thousands of Cherry Hill area residents. We can install the right chair lift at the best possible price, and we stand behind the work that we do.
Stannah Stair Lifts Compared to Acorn Stair Lifts
Quality is very important when you are installing a chair lift for stairs, and we have been doing this for a long time, so we have researched the marketplace extensively, including Stannah, Acorn, and Bruno. We offer top quality Stannah stair lifts, as they are the leading company in the industry. They provide solid warranties when you buy one of their new chairlifts, so you have no worries on that level.
When it comes to installation, our experienced stairlift installers will carefully inspect your property and place your equipment with pinpoint accuracy. Landings, curved stairways, and narrow spaces are not a problem. We have been working in Cherry Hill homes for decades, so we have a thorough understanding of local architecture, and we can adapt your stair lift solution to fit any configuration. 
Cherry Hill, NJ Stair Lift Repairs
Since we have so much experience installing Stannah stairlifts, our technicians have a thorough understanding of these products. In addition to our stair chair sales, we also provide stair lift repair services. We take this aspect of our business very seriously, and we have built our reputation over the last four decades and counting. If your existing stairlift can be repaired, we will do the job and do it right.
In addition to our sales and service offerings, we also provide chairlift rentals to people in the greater Cherry Hill area. If you are looking for a relatively short-term solution, a stairlift rental may be the best option, and we can accommodate your needs. 
Knowledgeable, Courteous Service
We have always placed an emphasis on customer service, and you will feel comfortable speaking with us from square one if you decide to work with Interstate Lift. You can give us a call right now at 215-335-7940 in Cherry Hill, NJ, and we can also be reached toll-free at 800-248-8800.