Stannah Stairlifts, Chairlifts for Stairs, Used Stair lifts, Chairlift & Stairlift Rental and Repair in Jenkintown, PA from Interstate Lift.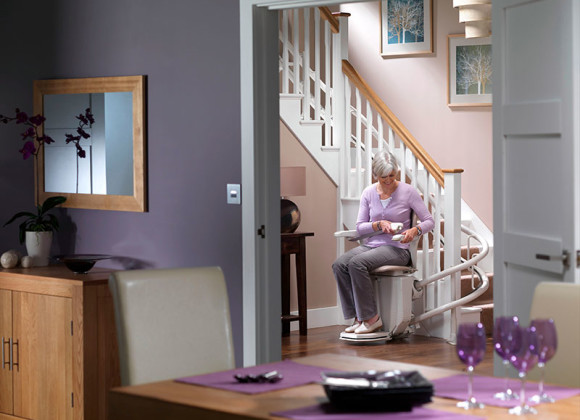 Thanks for visiting the Interstate Lift webpage that we created for our Jenkintown, PA stairlift clients. As you get older, mobility can start to become an issue, and this is something that most people face at some point in time. The United States Department of Health and Human Services tells us that seven out of every 10 senior citizens will eventually need some form of living assistance. A significant percentage of elders reside in assisted living facilities, but a properly installed chair lift for stairs can allow many seniors to remain in their own homes.
You want to work with a stair chair company that you can count on for quality installation, and stairlift installers have to be adaptable. After all, each home is different, and there can be narrow staircases, landings that are challenging to negotiate, angles, and curves. We have been installing stair chairs in Jenkintown, PA for over 40 years, so we have a thorough understanding of the layouts that are typically found in Jenkintown homes. Nothing surprises us, and we can adapt our chairlift solutions to suit any stairway configuration.
Quality You Can Count On
When it comes to Jenkintown, PA stair lift installation, our experience and passion for what we do sets us apart, but we provide top quality across the board. There are a handful of stair lift manufacturing companies out there, including Acorn and Bruno, and there are some that sit at the top of the heap, and we have identified them. We offer our customers Stannah chairlifts for stairs. This long-standing company is well regarded within the mobility industry, and as you may imagine, they stand tall with strong warranties. You leave nothing to chance when you work with our company to satisfy your stairlift needs, and we should also point the fact that we offer quality lightly used stairlifts.
Jenkintown, PA Chair Lift Rentals and Repairs.
In some cases, a person with mobility challenges will be looking for a chair lift rental. We are committed to the needs of our customers, so we can certainly step up and help you out if a chair lift rental is the best choice for you. Plus, if you need some stair lift repair work, we are here to help. Since we work with all the leading manufacturers, our technicians can provide stair lift repairs for any stair chair that you may have.
Make the Interstate Lift Connection!
Over the last four decades and counting, we have served countless Jenkintown, PA stair lift customers, and we can help you as well. Call us now at 215-335-7940 or 800-248-8800, and a member of our staff will answer your questions and arrange the next step if you decide that you would like to go forward.