Stannah Stairlifts, Chairlifts for Stairs, Used Stair lifts, Chairlift & Stairlift Rental and Repair in Delran, NJ from Interstate Lift.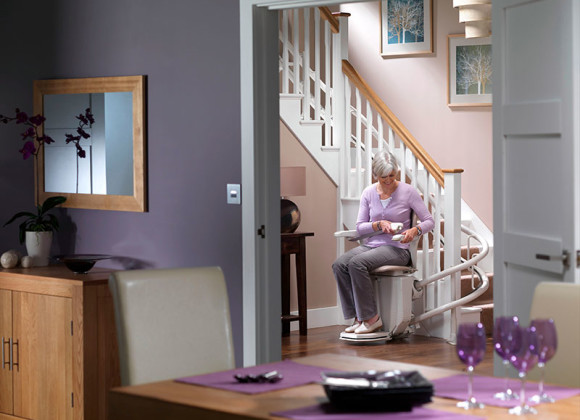 If you live in Delran, NJ and you are looking for a quality stair lift to improve your mobility, you have identified the ideal resource. Interstate Lift has been selling, renting, servicing, and installing chairlifts for stairs in the greater Delran area for decades, and we are not slowing down any time soon. We have worked with a variety of manufacturers, including Bruno and Acorn, but we've found that Stannah stair lifts are second to none. Stannah stands behind their products with ironclad warranties. When quality stair chair manufacturing meets Interstate Lift installation expertise, you have the ideal convergence that can transform your day-to-day experience in your home.
Enjoy Your Senior Years In Your Own Home
A very significant percentage of elders will require help with their day-to-day needs at some point in time. When your stairs become an obstacle for you, a stairlift can be a solution that can allow you to easily access your upstairs areas. As a result, you may be able to stay at home and steer clear of an assisted living community. The right stair lift solution can allow you to continue to enjoy familiar surroundings,  but it can also save you money. Assisted living communities are very expensive, and Medicare does not pay for long-term custodial care.
If you look at the curvature of your staircase and feel as though it would not be possible to install a chair lift for stairs, you are mistaken. The stair chair solutions that we provide can be adapted to suit any stairway configuration. We have been assisting Delran, NJ stair lift customers for over 40 years. Our technicians understand the architecture in this area thoroughly, and the stair chair products that we offer are designed to accommodate different angles of curvature.  When you work with Interstate Lift, you get a quality product, top-notch installation, and a custom crafted chairlift solution that is ideal for your home. We should also point out the fact that we have lightly used stair lifts in stock, so this may be a lower-cost option for you if maximum value is a concern.
Let's Get Started!
In addition to our stair chair sales and installation, we also offer stair lift rentals and stair lift repairs. We are your full service Delran, NJ chairlift company. If you are ready to address your mobility challenges head-on, call us right now at 215-335-7940 or 800-248-8800.