Do you have an elderly member at home who cannot move around due to knee pain or back problem? Or do you know someone who has been severely injured and cannot move from their room? Well, you have to understand that it is extremely frustrating for people to stay in one place and not move around due to pain in any part of their bodies. You might think that it is best for them to lie down but it is difficult to lie down or sit in one place throughout the day. Moreover, they need to be independent if this is a long-term affair. You will not be able to take care of them at all times. If they can move around on their own, you don't have to worry about them at all times. We, at Interstate Lifts, can help. We bring you the advanced and high-quality Stannah and Bruno stairlift which can help people move up and down the floors of your house without anybody's support. With over 40 years of experience and a remarkable service, we are one of the most preferred choices in areas like Delran, Jenkintown, Philadelphia, Princeton, South Jersey, and Wilmington.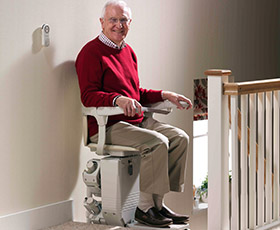 Here, we have put together a list of questions to ask a company before buying their stairlifts. Take a look.
Does your stairlifts suit all kinds of stairs?
There are several kinds of staircases in houses, starting with curved, straight, or customized. Before choosing the stairlift, you need to make sure these can be used on all kinds of staircases.
How much do these stairlifts charge?
Whenever you are purchasing something, it is crucial to know the price of the entity so that you can set the budget. That is why you have to ask the price of the stairlifts and if needed, you might want to compare it with other stairlifts.
So, without any further delay, quickly get in touch with us if you want to buy our stairlifts.