As per the United States Department of Health and Human Services, 7 out of 10 senior citizens need help with their daily activities, especially mobility. Interstate Lift has been offering mobility solutions for the last four decades. Since we really wanted to make a difference in the lives of the people who face mobility challenges, we have come up with the idea of stairlifts which allows you to remain in your home and be independent instead of living in facilities. When you are relying on a chair to get you to different floors, quality and assurance are very important. This is the reason we present you chairs from Bruno stairlift, a highly respected company that has set an exemplary standard for high-quality stairlifts. Being a locally owned company our repair technicians can reach you in no time to provide you the service you need.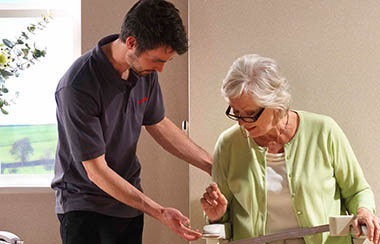 Below we have mentioned 3 mandatory questions to ask before buying a stairlift. Take a look. 
Is there enough room on my stairwell for a stairlift?

 
In most cases, there are ample spaces to fit in a stairlift. Even if the staircases are narrow, many adaptable fittings that makes the installation process easy and hassle-free. Our experts can measure your stairwell to ensure that the lift will fit. 
What kind of stairlift should I get?

 
Depending on your need, you can get either a straight stairlift or a curved one. For a curved stairwell, you can either install a curved lift, or you can install two straight lifts on two different flights of stairs.  
What safety features should I look for?

 
Since these will be used by the elderly or the temporarily handicapped people it is very important to see that the lock is in place, the seats can swivel for one to get on and off easily, and there are sensors to stop the chair in event of obstruction in the path. 
So, if you are a resident of Delran, Marlton, Moorestown, Philadelphia, South Jersey, Wilmington, and need to install a stairlift you can get in touch with us.