Do you have a chronic patient at home suffering from back pain, knee pain, or a heart disease? Then, there must be restrictions on climbing up and down the stairs. However, if you think from the patient's point of view, it can be quite frustrating to sit in the same room all the time. Moreover, the snatching away of their freedom is something that is quite hard to digest. In fact, it is also quite inconvenient for you because you have to either stay at home to help them move around or be constantly worried that they might fall and cause an accident. Now, there is an easy solution for you. All you have to do is install chair lifts for stairs in your house. Easy to use, comfortable, and useful, this is an equipment that everyone should use in order to help their loved ones improve their mobility. We, at Interstate Lifts, can be the right choice for you. We offer a professional and friendly service to your chair lift needs. So, if you are from areas like Delaware Valley, King of Prussia, Philadelphia, Princeton, South Jersey, or Wilmington, you must resort to us without any hesitation.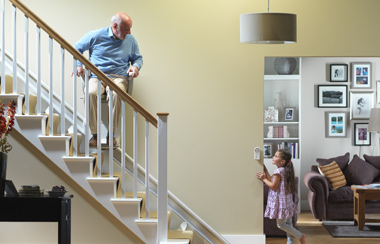 Here, we have put together a few ways you can benefit by choosing your chair lifts from us. Take a look. 
We understand that science is constantly improving and we try our best to keep us updated accordingly. We bring you some of the most advanced and latest features of chair lifts that will improve the user experience and make the ride more comfortable. 
We are aware that for some of you, the need for a chair lift might be temporary. So, you might not want to buy the chair lift completely. That is why we provide you with the chair lift rental services too. If you want, you can rent the chair lifts from us too. 
So, whichever be your choice, if you are interested in our chair lifts, quickly call us at 800-248-8800 or 215-335-7940 now.