Do you have an ailing senior citizen at home who has mobility restrictions? Knee pain or backache are common problems that come with age and sometimes if it is a little beyond control, then you might not be able to move around too much, especially not walk up and down the stairs. You might also be barred from climbing staircases if you have recently met with an accident and hurt your back or legs or if you have suffered from a cardiac arrest. But you might need to go to the next floor due to some urgent work. That is why a chair lift can be a savior. We, at Interstate Lift, can be the right choice for you. We are an established and experienced company which has been in this field for over 40 years. We can also help with chair lift rental or leases. We are known for our sturdy chair lifts that are suitable for all kinds of stairs. So, if you are from Wilmington, South Jersey, Philadelphia, Ardmore, Cherry Hill, or Newark, DE, then you can opt for us.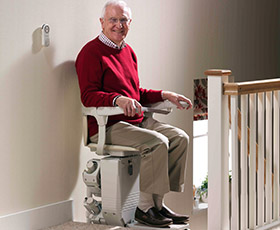 Here, we have put together a few of getting a chair lift rental. Take a look. 
If your need is just temporary, may be for a few months, it makes no sense for you to invest in a new chair lift. You should rent it out because then you will not have to spend so much. And you can return it back after your requirement is over.
When you purchase the lift, you will have to look after it. Repair and maintenance are a part of everything that you own. But when you for a rental, you are free from any hassle of repair or maintenance services. That will be the owner's responsibility. If it doesn't work, you simply go and exchange it.
So, if you are interested in our chair lifts, then you must contact us today.