Have you recently met with an accident? Are you facing chronic back pains or knee joint pains? Did you get an injury in your ankle or toes? Or are you recovering from a cardiac arrest? Regardless of what it is, you will not be allowed to climb stairs. You have to make sure that you arrange some measure to easily move up and down the stairs. One of the easiest solutions for you would be to opt for a chair lift. It is a convenient and smart option and makes you highly independent too. We, at Interstate Lift, can be the right choice for you if you are looking for quality chair lifts. We are an established company with over 40 years in this field. We are known for advanced technology and modern features which have enabled us to provide a great service to all our clients. We also provide a chair lift rental if you don't want to buy one or are looking to go for a trial option. So, if you are located in areas such as Marlton, Moorestown, Mt Laurel, Philadelphia, South Jersey, or Wilmington, then you can rely on us.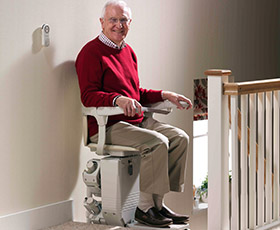 Here, we have put together a few common reasons for renting a chair lift. Take a look. 
If you have been advised a temporary mobility restrictions, then you don't need to invest this amount of money on the new chair lift. You can easily get it on rent and then give it back once your purpose has been served. It does not make any sense to block the space in your house for that long when the use is not for long. 
You will be saving money by not purchasing a chair lift. If you are tight on budget, you can always take it on a rental lease and enjoy the same benefits at a much lesser cost.  
So, if you are interested in renting our chair lift, quickly contact us today.