Do you have any kind of mobility restrictions? Due to knee pain, back ache, ankle sprain, or even a cardiac arrest, sometimes you can be restricted to one part of the house. But it is not practical and convenient to remain confined like this. That is why more and more homeowners are investing in a good chairlift at home. We, at Interstate Lift, can be the right choice for you. We are an established and reliable company with more than 40 years in this field. We can provide you with a wide range of chairlifts and stairlifts from some of the most renowned brands. We are known for our state of the art technology which enables us to provide you with some of the most advanced features in these chairlifts which give you a comfortable and safe experience. So, if you are located in areas like South Jersey, Philadelphia, Moorestown, Wilmington, Mt. Laurel, or Cherry Hill, then you can opt for us.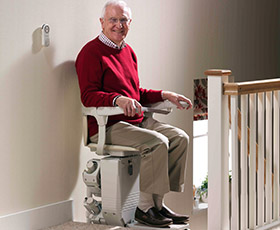 Here, we have put together a few factors to keep in mind while buying a chairlift. Take a look. 
Quality
You must understand that your safety will depend on the chairlift. That is why you have to opt for a high quality product which will provide you with utmost comfort and safety at all levels. It should last for a long time without any difficulty.
Price
Another thing that you have to keep in mind is the budget. It is definitely a necessity but you cannot spend all your savings on it. That is why you have to check the price and see if it is affordable for you or not. If needed, you can also compare it with others and then make a choice.
So, if you are interested in choosing us, contact us now.