Are you facing severe knee pain or back pain? Do you have a chronic illness? Or have you just recovered from a cardiac arrest? Then, you must be having restrictions on moving around, especially for climbing up and down the stairs. Initially, this is necessary. However, if this continues to be a problem even in the future, then it will be a permanent issue. Your loved ones might be there to help you move about in the house. But for how long will you depend on others for your mobility? Now you can move up and down the stairs on your own without deteriorating your health further with Interstate Lift. We bring you a high-quality stair chair that can help you independently move up and down the stairs. We are a renowned and experienced company which has been in this field for more than 40 years. Along with the sales, we also provide installation, sales, and servicing. So, if you belong to areas like Cherry Hill, Delaware Valley, Mt Laurel, Newark DE, Philadelphia, Wilmington, you can resort to us without any hesitation.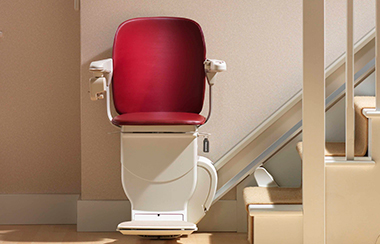 Here, we have put together a few ways in which buying a stair chair can be helpful. Take a look.
First of all, installing a stair chair will mean self-sufficiency. You no longer have to depend on others for moving around. Otherwise, you would have to wait for other people to be free in order to cater to your needs. If you want to be independent, this is a great help.
Next, it means convenience for your family members. Your family members will also be at peace by installing such a kind of equipment in your house because they will not have to worry about you. A stair chair is a sturdy machine with safety features so you can depend on it.
So, if you want to invest in this kind of a machine, then quickly get in touch with us now.