Do you have someone with mobility restrictions at home? Sometimes due to old age or an accident, you might face issues with your back or knee. So, there you might have to lose your ability to walk around in your house and be on complete bed rest, if not permanently but temporarily. Staying in the bed might be a little tedious and frustrating so many opt for wheelchairs. While these are good options for people who have to stay on a single floor. But what to do if you live in a big house with multiple floors? You might have the need to walk up and down the stairs. In such a scenario, you should make an arrangement at home which will help you to do without depending on anyone. That is why we, at Interstate Lift, bring you a wide range of stair chair that will help you to safely move from one floor to another. With our 40 years of experience, quality products from popular brands, and low prices, we have become one of the preferred companies in areas like Ardmore, Cherry Hill, Delaware Valley, Philadelphia, South Jersey, or Wilmington. So, if you want to opt for this arrangement, then resort to us.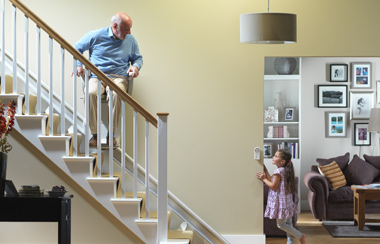 Here, we have put together a few major factors that make a good stair chair. Take a look.
You have to make sure that the features of your stair chair are according to the latest technology. This will make sure that your product is updated and can provide you with a good service.
You have to make sure that the stair chair is safe to use. As you might not be able to provide any support for yourself, this stair chair should run efficiently in a manner to prevent accidental fall or dysfunctional issues.
So, if you are interested in purchasing a stair chair, then get in touch with us today.