Are you living with someone who has mobility restrictions? Do you have ailing old patients at home who have severe backache or knee pain? Or are your family members recovering from an accident or a cardiac arrest and have been restricted from climbing the stairs? Whatever it is, you should realize that sometimes living in the same room or the same floor can be difficult. They might need to go upstairs. But that does not mean they have to depend on someone. After all, you might have a tight schedule and it is not possible to always tend to your family members. That is why a stair chair is a great option. We, at Interstate Lift, can be the right choice for you. We are an experienced and established company that brings you advanced and modern stair chairs and chairlifts for your convenience. Just install these at home and allow your family members to go up and down as many times as they want. We have an overall experience of 40 years and are known for our quality products and friendly services. So, if you are from areas like Philadelphia, Wilmington, Moorestown, Delran, Ardmore, or Newark DE, then you can choose us.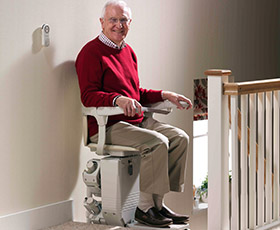 Here, we have put together a few important things to check about the stair chair first. Take a look.
A patient will be using these stair chairs and sometimes even extremely old senior citizens. That is why you have to pay special attention to their safety when they use this. Make sure there are provisions which prevent all kinds of accidents and mishaps and are completely safe to use.
There are various kinds of stair chairs in the market but you have to choose stair chairs that are suitable for your budget as well as serve its purpose. Check the price beforehand and see which one seems like a more suitable option.
So, if you are interested in purchasing our stair chairs, contact us today.