Do you or someone at home have mobility restrictions? Sometimes, due to knee pain, back ache, or ankle sprain, people can be confined to one part of the house. Also, due to cardiac arrest, people can be stopped from climbing up and down the stairs. But it is extremely inconvenient to remain limited to one part of the house. And that is why you should invest in a good stair chair. This is a smart and modern device that aims to enable movement from one so to another without causing any stress to your wounded area. We, at Interstate Lifts, can be the right choice for you. We are an established and reliable company which has been in this field for more than 40 years now. We can provide you with some of the most advanced and high-quality stair lifts and stair chairs along with its repair and installation services. We cater to all kinds of stairs, right from straight, narrow to even carved staircases. We are known for our state of the art technology and highly reliable and efficient professionals. So, if you are based in areas like South Jersey, Wilmington, Philadelphia, Mt. Laurel, Cherry Hill, Or Delran, then you can rely on us.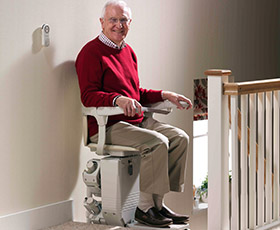 Here, we have put together a few factors to keep in mind while choosing the right stair chair for your home. Take a look. 
One of the first and foremost things that you need to keep in mind is that the stature must have smart and modern features. You should look for an updated product with the latest features that will provide you with a comfortable and convenient experience. You should especially check for safety features to protect people from accidents during the procedure.
Another thing that you should keep in mind is the durability of the machine. It should be made of good quality materials so that it lasts for a long time. After all, you're going to pay a price for it and it should be worth it.
So, if you are thinking of choosing us, contact us today.