Are you facing mobility issues? Or do you have someone at home who has restrictions on their movement, especially the staircase? There are various issues for which you might have to face a mobility problem such as arthritis, back pain, ankle or knee injury, or a surgery. But locked inside a room or depending on someone cannot be a long-term solution. That is why a stair chair is something that can help you. A stair chair is a secure seat which can smoothly glide on the rail across the staircase, enabling you to climb stairs and visit the different floors of your house without exerting any effort on your legs. We, at Interstate Lift, can be a good choice for you. We have been in this field since 40 years now and can also install these stair lifts or chairs perfectly. We are a reputed company with several clients in and around areas like Mt Laurel, Newark DE, Philadelphia, Princeton, South Jersey, and Wilmington. So, if you want such easy and smart mobility solutions, you can resort to us without any hesitation.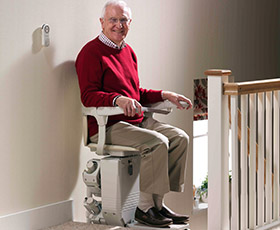 Here, we have put together a few queries that you might have for the stair chair company. Take a look. 
Is the stair lift suitable for all kinds of staircases? 

 
Different homes have different kinds of staircases, such as narrow, curved, spiral, straight, tight landing, or any other kind of custom staircase design. You need to ensure that the stair lift is fit for all sorts of stairs. So, ask the provider if it can be used with all kinds of stairs. 
Do you also rent stair chairs?

 
Some of you might just have temporary restrictions on mobility. So, you might think that buying this can be a wastage. You should ask the company if they also allow rental services so that you can use it for as long as you need them.  
So, without further delay, contact us now if you think we can be the right choice for you.