Do you have an ailing patient at home? Do you know someone who has been suffering from backache or knee pain? Well, there could be a lot of reasons for which one could be given mobility restrictions. In such a scenario, climbing up and down the stairs might be specifically restricted. That is why the right solution would be to get a stair lift installed in your house. We, at Interstate Lift, can be the right choice for you. We are an established and reliable company which brings you a wide range of stair lifts for all kinds of staircases. Whether you have straight, narrow, or curved stairs, our stair lifts can help all patients move up and down all floors on their own. If you are suffering temporarily, then too we have used stair lifts that we can offer on rent. With our high-quality products and state of the art technology, we have earned a solid reputation. So, if you are based in areas like Wilmington, South Jersey, Philadelphia, King of Prussia, Mt Laurel, or Delaware Valley, then you must choose us for stair lifts.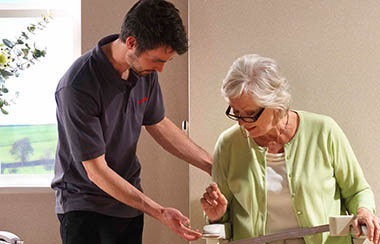 Here, we have put together a few crucial questions to ask the company before choosing stair lift rentals. Take a look. 
Does your machines have proper safety features?

 
Even if the stair lifts are rented, you have to ensure that these products are equipped with the latest technology which ensure the safety of the users. You must understand that these will be used by the patients who cannot manage on their own. So, this feature is absolutely essential. 
Do you offer rental quotes in advance?

 
If you can get an estimate of the stair lift rentals, you can decide if you will be able to afford it or not. That is why you should ask for advance rental quotes. Get these quotes and then compare these rates to make sure you are getting the cheapest rate. 
And if you think you want to rent our stair lifts, then contact us today without further hesitation.