As we grow older, climbing stairs can become a challenge. If you have an elderly person in your home who depends on you or your family members to go up and down the stairs, then you know that it a big burden for both parties involved. However, the good news is that stair lifts provide an easy solution for people who needs a little help using the stairs. There are also a number of companies that offer rental stair lifts if you need them for temporary use.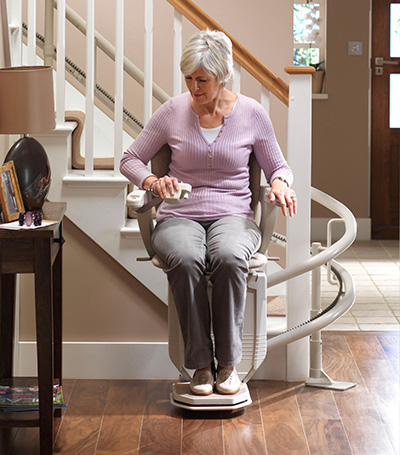 At Interstate Lift, our team of engineers is trained to provide you with the best services in town. As the authorized dealers of Stannah stairlifts, we have a wide range of accessibility solutions for you to choose from. We provide our services to Philadelphia, South Jersey, Wilmington, Newark, DE, Mt. Laurel, Jenkintown, and neighboring areas. If you are interested in getting a stair lift for your home, contact us today.
Here are some more benefits of stair lifts:
The first major benefit is that it restores the independence of the people who needs it the most. Even when an elderly person is not confined to a wheelchair, using the stairs can be troublesome for them. They can also use it for transporting heavy items like groceries, books, trash, laundry up and down the stairs with no assistance.
Stairlifts are very easy to use. All you need is to just sit on the seat and press a button to go up and down the stairs. As there is no rocket science involved, it makes it even simpler for senior citizens to use it with ease. Also, it reduces the risks of other injuries that can result from falling down the stairs.
So, if you are interested in our services, contact us today.