Renting a stair lift from Stannah Interstate Lift is a great option for home owners or renters who have a short-term need or want lower up-front costs while still getting the care‑free ownership of a quality stair lift. Some of the advantages you can expect from renting a stair lift from Stannah Interstate Lift are lower monthly costs, free annual maintenance check-ups, and all-inclusive service. Stannah Interstate Lift is a family owned stair lift company, dedicated to providing quality products to Philadelphia and all surrounding areas.
Let us look at the benefits of getting a stairlift rental: 
Guarantee - When you get your stair lift service from Stannah Interstate Lift, you're guaranteed the work will be done to manufacturer specifications – it's your satisfaction that is guaranteed. We have most Stannah stair lift parts in stock, so you'll experience little to no downtime while we repair your product. It's important to perform routine maintenance on your stair lifts in order to keep them operating correctly and efficiently.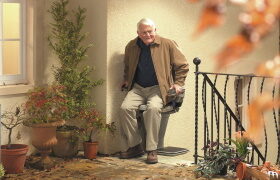 Expert Advice - In just a few short hours, our professional, trained technicians will install your stair lift with no damage to your walls, your woodwork, or your steps – the rail on which your stair lift rides is attached unobtrusively to some of the treads of your stairs, and is often nearly invisible. We clean our work space when we're finished, so that when we leave, you're getting nothing but the stair lift you wanted to maintain your independence in Philadelphia and surrounding areas.
 Fixes and support - Our Stannah Interstate Lift professionals will be happy to visit your home to discuss our requirements and to talk to you about the service and maintenance options available to you as our customer. We provide a speedy reliable back-up and maintenance service plan to ensure you will be consistently happy with your lift for as long as you need it. For optimum performance, we recommend you have your Stannah Interstate Lift maintained every year.
At Stannah Interstate Lift, we only sell, service, and repair stair lifts that meet the highest standards for quality, safety, and durability, like Stannah stair lifts. Any model you select will provide you with years of dependable performance. Contact us at 215-335-7940 if you live in or around South Jersey, King of Prussia, Wilmington, Princeton, Delaware Valley, or Moorestown areas.