Stannah stairlifts are made to assist people with mobility issues in safely and comfortably ascending stairs. A Stannah stairlift can offer several advantages, including increased safety, comfort, user-friendliness, and customization. Stannah stairlifts are an excellent choice for anyone who requires assistance climbing stairs due to their compact design, dependability, and warranty. 
Let us look at the key features of installing the Stannah stairlift: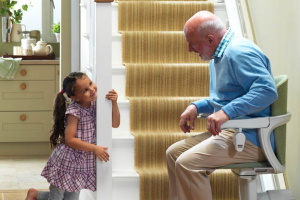 Safety: To prevent accidents and ensure safe operation, Stannah stairlifts are designed with several safety features, such as seat belts, footrest sensors, and obstruction sensors. 
Comfort: Stannah stairlifts are made to be comfortable. For smooth and comfortable operation, they have padded seats and backrests, footrests that can be adjusted, and controls that are simple to use. 
Efficacy of Use: Stannah stairlifts are not difficult to use, with instinctive controls and basic activity. They can be controlled via a chair's armrest-mounted controls or a handheld remote. 
Customizable: Stannah stairlifts can be tailored to each user's specific requirements. They are available in a variety of sizes and can be installed on either straight or curved stairs. 
Reliability: Stannah stairlifts are known for being long-lasting and dependable. They are built to last and are made of high-quality materials. 
Warranty: The warranty on Stannah stairlifts gives the user peace of mind. Depending on the model, the warranty covers parts and labor for a specific amount of time. 
We at Stannah Interstate Lift know how difficult it can be to decide to install a stair lift in your home, but we are here to help. We take great satisfaction in serving every one of our clients with professionalism, friendliness, and concern. We collaborate with you to ensure that you receive the appropriate stair lift for your requirements and budget. Contact us if you reside around Philadelphia, South Jersey, Wilmington, Cherry Hill, King of Prussia, and Moorestown areas.