5 ways in which stairlifts can enhance quality of life
Interstate Lift provides stair lifts in and around Wilmington, Philadelphia, South Jersey, Marlton, Princeton, Jenkintown.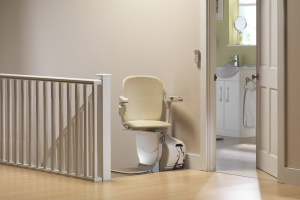 Stairlifts are mobility devices designed to help individuals with limited mobility move up and down the stairs safely and comfortably. They can significantly enhance the quality of life for people facing mobility challenges. Here are five ways in which stairlifts can enhance the quality of life:
Independence and Freedom:
Stairlifts enable individuals to regain their independence and freedom within their own homes. They no longer have to rely on assistance from others to navigate the stairs, which can be a source of frustration and dependence for those with mobility issues.
Safety:
Stairlifts provide a safe means of moving up and down stairs. This reduces the risk of accidents and falls, which can have serious consequences for older adults or individuals with physical disabilities. The safety features of modern stairlifts, such as seatbelts and sensors, further enhance their safety.
Improved Quality of Life:
Stairlifts allow individuals to access all levels of their home, which means they can continue to use all areas of their house without restriction. This can improve their overall quality of life by enabling them to stay engaged in their daily activities and interact with family members without the limitations imposed by stairs.
Reduced Physical Strain:
Using a stairlift eliminates the physical strain and exertion that climbing stairs can cause for individuals with mobility issues. This can help reduce fatigue and pain, making it easier for them to conserve energy for other activities and enjoy a better quality of life.
Emotional Well-being:
Stairlifts can have a positive impact on an individual's emotional well-being. They can alleviate feelings of frustration, isolation, and helplessness that can result from limited mobility. Knowing that they can easily move around their home can boost their self-esteem and overall emotional health.
In summary, stairlifts offer numerous benefits that enhance the quality of life for individuals with mobility challenges. They promote independence, safety, and accessibility, ultimately contributing to improved physical and emotional well-being. Please call us without any hesitation.